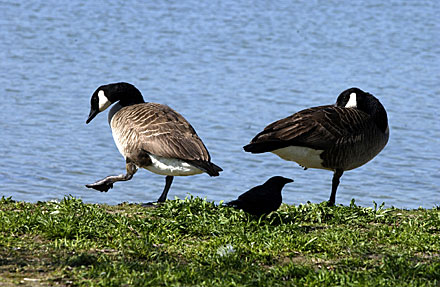 CHARLIE MEADS/THE VIRGINIAN-PILOT
Virginia Beach is teaming up with community groups and animal activists, including an unlikely alliance with Norfolk-based People for the Ethical Treatment of Animals, to help curb the geese population and usher them out of the city and elsewhere.
Tactics include: searching for goose eggs and rendering them unhatchable and scaring the birds from Mount Trashmore's lakes.
Two years ago, the city contracted with the Department of Agriculture to trap and kill or shoot an undetermined number of Canada geese and ducks at Trashmore.
The effort brought protests from residents and animal-rights groups and led to what some hope becomes a model for the rest of the region, thus bringing about the development of the new methods.
*
The Virginian-Pilot Story